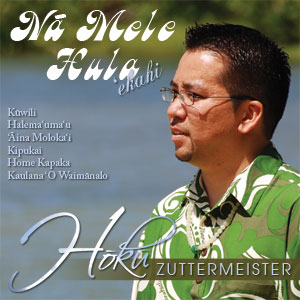 Nā Mele Hula, 'ekahi
KR002
Kūwili
Halema'uma'u
'Āina Moloka'i
Kipukai
Home Kapaka
Kaulana 'O Waimānalo
---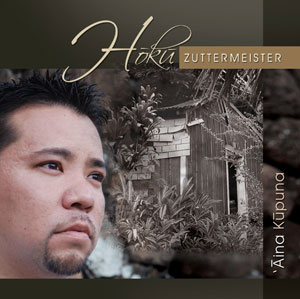 'Āina Kūpuna
KR001
Purchase 'Āina Kūpuna:

| Amazon.com MP3 store | Mele.com
Once in a decade comes a traditional Hawaiian album so perfectly crafted that it becomes an instant classic. "'Āina Kūpuna" is such an album. Hōkū Zuttermeister comes from a long line of Hawaiian music and hula masters, and that history is apparent in every word sung and note played.
From the first song, "Nani Nā Pali Hāuliuli O Nā Ko'olau," which was given by Johnny Townsend to Hōkū's great-grandmother, Kau'i Zuttermeister, as a gift, you will get a hint of the depth of Hōkū's amazing talent. The musical journey continues with the beautiful falsetto number, "Moanalua," showing off Hōkū's range and sung to vocal perfection. Another haunting number, "Lā'ieikawai," is sure to be a favorite, along with "Ōla'a Beauty," where Hōkū is joined by Robert Cazimero and Keao Costa. A song close to Hōkū's heart is "Nā Pua Lei 'Ilima," written by his great-grandmother. A popular audience request, "Shores of Hale'iwa" reveals the troubador in Hōkū, highlighting his silky smooth lower register. And the final medley will be danced by hula dancers for years to come.
Nani Nā Pali Hāuliuli O Nā Ko'olau
Moanalua
Kuhiau
Lā'ieikawai
Nā Pua Lei 'Ilima
Ōla'a Beauty
'Akahikuleana A Ka Piko
Kūhiō Beach
Ka Ua Kilihune
Shores of Hale'iwa
'Āina Kūpuna Ē/Ho'i Ke Aloha i Ra'iatea